You never know that you need to have a high quality repairman as quickly as when you break a door. With a door that is broken, New Orleans is either going to end up giving you chilly rain or extreme heat, so its best to get it fixed as quickly as possible. Mr. Fix It is the perfect answer, as a trusted handyman will have your home or office's door repaired in no time.
Why might you need door replacement for your New Orleans home?
You will certainly need to replace your door if it has become broken in an accident, but there are a few other reasons that could have you calling Mr. Fix It as well. A new door will take away drafts that roll through worn down door, as well as eliminate warm spots that can occur. Another plus is that a new door making the heating and cooling processes of your home significantly more efficient, which means that you will notice changes not only in the temperature of your house, but also in your utility bills. Having your door replaced before something go awry is a great idea because the maintenance is so much easier upfront. You might even just want to give your door a new look, either during a remodel or on its own. Finding something that fits your style is plenty enough reason to get a replacement door today. Not only will you enjoy it in your day to day life, but when the time comes to sell your home, it will increase the resale value.

There are many different things that the team can complete to get you squared away with a better door. This includes sealing doors for weather, in case a big storm has impacted its quality. You could want a casing adding, which the team can install or repair. Maybe you just got a new dog and your door simply needs to have a doggie door added. All of these are within the realm of expertise with Mr. Fix It.
Mr Fix It is the best company for replacing your door
The ease that comes with Mr Fix It is unsurpassed. If you were to go with a standard contractor, there would be additional hassle when different designers and installers to give you a finished product. With Mr Fix It, the handymen who are working with you are versatile and can get the entire project completed, start to finish. You have much more important things to be doing than wasting time on a door. The team is ready to help you and is sure to make the process as simple as can be.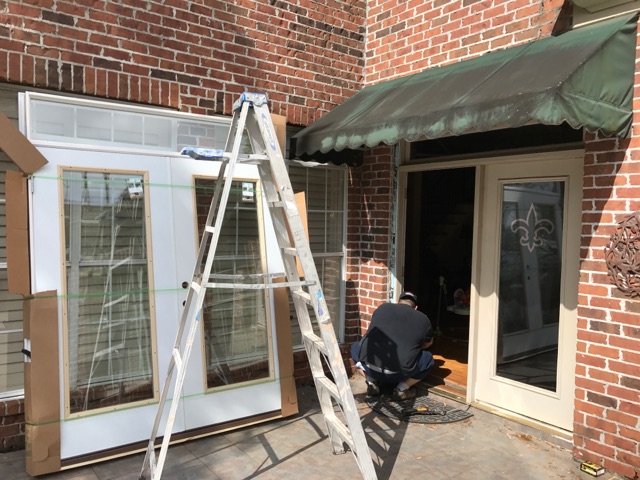 What is it like working with Mr. Fix It?
Customer service is the absolute highest priority, which means that not only will you be happy with the work that has been done, but in the manner it was delivered as well. If you give the office a call, a member of the team will be happy to discuss with you all of the options available, let you know how quickly it can be fixed, and answer of the little questions that pop up when repairs are needed. Working with a small team means that you will know who you are talking to and can build trust that they are going to get the job done right. Once your door is replaced, you will know that you have a handyman available for any project that your home or office needs. The entire time is fully certified and insured, so you can stop with any worries about any of that. Your to-do list is going to be finished before you can blink an eye once you realize that Mr Fix It NOLA can do any project your brain can scheme up. Today is a great day to reach out and have a replaced door in no time.