Our team at Mr. Fix It prides itself on being a full-service handyman. No job is too big or too small for us to tackle. Conveniently located outside of New Orleans in Metairie, Mr. Fix It offers a large selection of home repairs and home renovation services for those living in New Orleans, Metairie, Kenner, Baton Rouge, and the Northshore.
Regardless of what you have on your to-do list, no job is too tough for the Mr. Fix It crew. Don't waste your time hiring different contractors, repairmen, painters, and other inexperienced, costly service providers. Instead, handle your repair with ease and let your do-it-all handyman take care of it for you!
We strive to provide you with professional, high-quality, and courteous service that you can count on! We have a streamlined, straightforward process that makes it easy for you to use. Our services include but are not limited to sheetrock/drywall installation and repair, carpentry, painting services, window or door repair or installation, electrical issues, and bathroom renovation services.
You do not have to be completely renovating or building a new home to experience our full line of experienced and highly knowledgeable contractors. Whether you are replacing a door or window, installing shutters, replacing a water heater, insulating pipes, or doing a sheetrock repair, Mr. Fix It crew is available to help tackle your dreaded home repairs.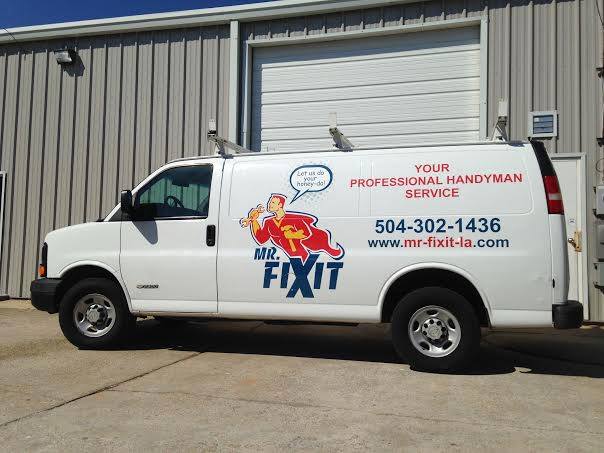 Mr. Fix It Can Help With Your Long or Short Repair Jobs
As time goes on, things inevitably break. When things break, the Mr. Fix It crew is here to help. As your one-call solution for a variety of home repairs and services, you can rely on our dedicated handymen for superior workmanship and unparalleled quality.
You can count the Mr. Fix It crew to complete your outdoor and indoor home repairs, projects, and honey-dos in an efficient and safe manner, as we only employ professional workers with the proper expertise to get the job done right.
If you find yourself with a growing "to-do" list that never seems to get done or feel that your home or place of business could use some TLC, contact the Mr. Fix It crew. Our expert handymen can save you a significant amount of time and money that would otherwise be spent hiring individual contractors, repairmen, painters, and other specific workers for your home repairs.
While we do offer our work by the hour, you will get the best value by hiring a Mr. Fix It crew for the day to knock out all of the repairs you need done. Start crossing items off your to-do list today and contact Mr. Fix It!