Superior Handyman and General Maintenance Craftsmanship
When things break, Mr. Fix It is here to help. As a complete handyman service in New Orleans and the Northshore, Mr. Fix It is happy to help you tackle the jobs you or your significant other does not have the time to do. Our highly skilled handymen can save you a significant amount of time and money that would otherwise be spent finding and hiring experienced contractors, painters, repairmen, and other individuals for the specific repairs around your home.

Mr. Fix It will handle all of your multiple trade projects along with all your other to-do list items with ease! Mr. Fix It handles carpentry, drywall, paint, doors, windows, electrical, and bathroom renovations, just to name a few of the many services offered. Regardless of what can be found on your ever-growing to-do list, allow Mr. Fix It to take care of it for you!
With our streamlined processes and professional, courteous customer service, we make it easier than ever for our customers to get their home or business in tip-top shape. As your one-call solution for a wide variety of home repairs and services, you can count on our hardworking handymen for quality workmanship and reliability. Think you may be interested in some of our handyman services? Below are the top 11 reasons you should contact Mr. Fix It today!
Call 504-302-1436 to book us for a half day, full day, or by the job!
Top 11 Reasons Why You Should Call Mr. Fix It
You have a "To Do" list that seems to never get done.

You are always saying "I'll get to that when things slowdown."

Your place of business needs to adhere to regulations and safety requirements.

Your place of business could use a little "TLC".

You are putting your house up for sale and you need some help to get it ready for buyers.

You just bought a new property and it needs a few things fixed before you start moving things in.

You are getting ready to "hunker down" for the next storm.

You have elderly or special needs family members who could use some assistance around the house.

You have an event or a party that needs some special accommodations.

You are a property owner who can't keep up with all the everyday maintenance and repairs.

A project or two is keeping you from being able to rent out your property.
Your Skilled Handyman in New Orleans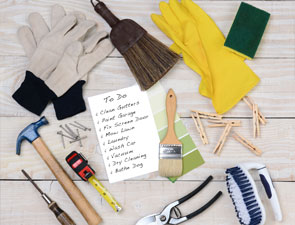 Everyone can benefit from a visit from Mr. Fix It! We offer quality handyman work by the hour, but our best value is to hire a Mr. Fix It crew for the entire day to completely tackle your ever increasing overdue honey-do list.
Maybe your outdoor deck could use some TLC, or your old wood window frames are rotting. Do you need a room painted to give your space a fresh new look, or want to build some custom bookcases or shelves to house your record collection? Perhaps you need some light fixtures replaced or need shutters installed to protect your windows during hurricane season. Our professional crew can take care of all your home improvement needs!
Regardless of the repairs or home updates you need done around your house, Mr. Fix It is here to tackle them for you. After we prepare an estimate and schedule a date, our crew will come to your home, dressed in our Mr. Fix It uniform, and do the work you need done. Safety is a priority to us and our clients. We employ only professional workers with the knowledge and skills to do the work right, in a timely manner and safely.
Contact Mr. Fix It today for reliable handyman services in the Greater New Orleans area, including Metairie, Kenner, Covington and Mandeville.